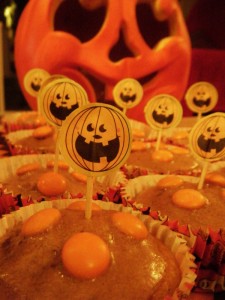 With a Sunday afternoon completely free and Halloween just around the corner, I decided to get in to the spirit of things and whip up a spooky and VERY tasty sweet treat! I have failed many a batch of cupcakes in an attempt to make a wheat and dairy free sponge, without having to use overly expensive or hard to find ingredients.
This recipe is easy to follow and doesn't use anything you wouldn't be able to find at your local supermarket, best of all the result is a moist, flavourful and bouncy sponge that you would never guess was a wheat/dairy free alternative!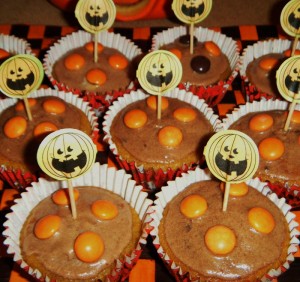 After making these I spent the evening watching Hocus Pocus (enjoy my favourite scene by clicking here!), an old favourite of mine which I watch religiously every Halloween along with Casper and the Addams Family, nothing too scary for me! What's your favourite spooky Halloween film?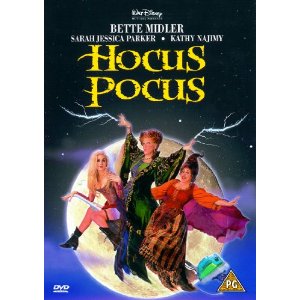 These cupcakes are not only perfect for Halloween but for the winter season. The pumpkin mixed with the slight nutmeg and cinnamon taste give them a festive feel, making them perfect to snuggle up with warm drink and treat yourself to some seasonal flavour!
Recipe:
Makes 12 Cupcakes
Ingredients: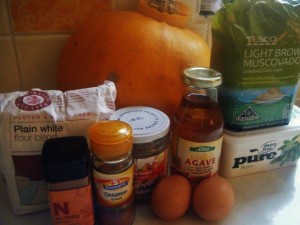 For the sponge
100grams of brown sugar
115grams of dairy free spread (I used Pure Sunflower Spread)
2 eggs
150grams of plain flour (I used Doves Farm, plain white)
2½ teaspoons of baking powder
½ teaspoon of nutmeg
½ teaspoon of cinnamon
1½ tablespoons of apple sauce
230grams of pureed pumpkin – You can used canned or I used a half a medium fresh pumpkin. To prepare this way: trim, deseed and cut in to rough chunks. On a baking tray cook in the oven at 220c for approximately 45 minutes until softened. Take out and allow to cool. Weigh out the amount you need then puree in a blender. It will them be ready to add to the cupcake mix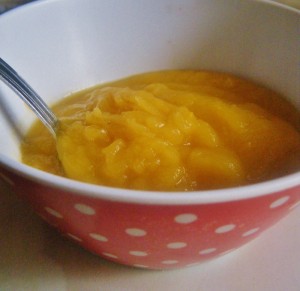 For the icing
50grams of dairy free sunflower spread (I used Pure)
50grams of icing sugar
2 tablespoons of coco powder (I used a light hot chocolate powder)
Method:
Preheat oven to 220c. Trim, de-seed and cut the pumpkin roughly in to large cubes. Place on a baking tray and cook until soft for approximately 45 minutes.
In a mixing bowl add the butter and sugar and beat until light and creamy.
Beat the eggs in a separate bowl. Add them a little at a time to the butter mixture, beating lightly with a wooding spoon.
In a separate bowl weight out the flour and baking powder and gently stir to combine. Sift the flour mix in to the wet mix a little at a time. Be extra careful at this stage to ensure you are folding the entire mix, trapping air as you blend in the flour.
Add the apple sauce, pureed pumpkin, nutmeg and cinnamon to the mixture and fold in carefully until combined.

Spoon the cake mixture in to paper cases and bake in the oven for 10 – 15 minutes until golden brown and firm.
Transfer on to cooling rack and allow them to cool completely before icing. To prepare the icing in a bowl add the dairy free spread, then sift in the icing sugar and coco powder to avoid lumps. Cream the mixture gently with a small spoon, don't over mix as the dairy free spread can become runny it over worked.

Ice and decorate your cupcakes. Enjoy and Happy Halloween!