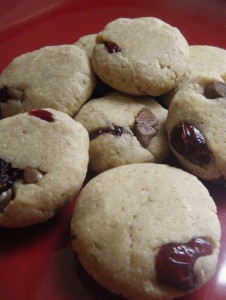 These tasty bites are the perfect solutions to satisfy your sweet tooth in a healthy way and they are also an ideal bite to boost your energy.  They taste very similar to cookie dough and so simple to make.
The interesting part of this recipe is you can have it raw or bake them, if you leave them raw and cool in the fridge they are very similar to cookie dough. They can be enjoyed alone or as a more indulgent treat with vegan ice cream, you could even make smaller chunks and sprinkle as a topping to many desserts. If you choose to enjoy them cooked, they are like a very moist soft cookie bite.
I have been trying to get more protein in to my diet recently so I decided to buy a protein powder to make up drinks and add to baking. With my dairy and wheat intolerances I found the powders in most health food stores by me weren't suitable so I searched online and found  a dairy and wheat free protein powder. I added two scoops (20grams) to my mix today gaining 8.4 grams of protein. You could try adding more and making them even higher in protein and can use them as an alternative to buying a protein bar, which I will definitely be doing as they taste better than any protein bar I've tried!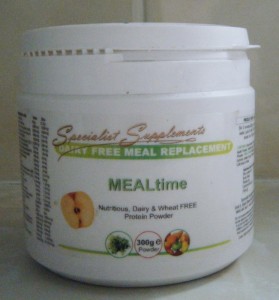 If you're making these try baking half and keeping half raw to compare which taste you prefer more and let me know what you think!
Recipe

Ingredients:

100grams of chashews
50grams of oats
40grams of wheat free plain flour (I used Doves Farm)
I tbsp. of brown sugar
½ a tsps. of vanilla extract
1 ½ tbsp. of agave nectar
1 ½ tbsp. of honey
A handful of choc chips and cranberries
30grams of protein powder (one scoop)

Method:

Set your oven to 200c. In a food processor blend the cashews, oats and flour. You may need to stop the blender and with a spoon move the mixture around then blend again as the cashews can get stuck. Once blended you should be left with a flour mix.
Next add the sugar, vanilla, agave and honey. Blend until mix is moist throughout and dough like, then add one tbsp. of water and blend again.
Remove mix from blender in to bowl and kneed with wet hands to add moisture. Add the choc chips and berries; mix them in to the dough with hands.
On a lined baking tray, tear pieces of dough apart and use your hand to make little balls and then slightly press down with palms to make more of a biscuit shape. 
Place in oven and leave for ten minutes until they show a lighter colour and a golden outside. Allow to cool and store in an air tight container.  OR place the bites on to a plate, cover with foil and store in fridge to enjoy raw.