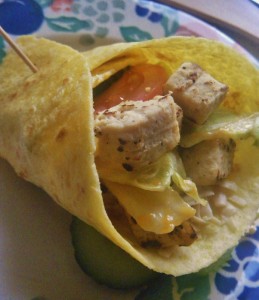 Since starting my blog I seem to want to make a blog post out of almost everything I make and eat, todays lunch was no different. I was intending on making a quick wrap for myself but once I laid out my ingredients I knew I was on to something tasty and decided to get out my camera!
I usually avoid any wheat or gluten bread choices as they leave me very bloated but even though these Old El Paso corn wraps are not wheat free they have never flared up my intolerance so I enjoy them from time to time at lunch and dinner! As with most intolerances it's the overeating of a food product which builds up the intolerance and its subsequent reactions so keeping this is mind I don't over eat these. What really gave these wraps some flavour was my mixing the chopped lettuce in a bowl with my leftover peanut and orange sauce from my dinner last night, you can find the recipe to make this delicious sauce and some tasty spring rolls by clicking here.
A useful tip I learnt from this was to grating the Sheese was a perfect way to serve it, many vegan cheeses have strong flavour and slicing can not only be more difficult than with normal cheese but a slice can sometimes be too strong. By grating it, it made it easy to slightly melt on the tortilla when in the pan and would be a perfect way to serve the cheese in a salad to avoid lumps; these small grated pieces will carry the cheesy taste through many dishes.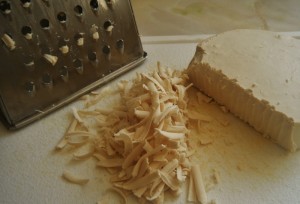 This is a really healthy and flavourful lunch that you can prepare in under ten 15 minutes and it beats a sandwich and crisps! Let me know any of your favourite quick and healthy lunch ideas and share the recipes below!
Recipe
Ingredients:
Chopped lettuce lightly tossed in my homemade peanut orange sauce
Old El Paso corn tortilla
Thin slices of cucumber and tomato
Grated Sheese (or any vegan cheese)
Handful of Quorn Chicken Style Pieces
Humus
Method
Slice the tomato and cucumber in to thin slices which will bend easily when wrapping the tortilla later. In a bowl mix the lettuce with a light serving of peanut sauce (if you don't have time to make the sauce just mix with humus) and sprinkle in a little pepper for seasoning. Leave both aside for later.
Grease a frying pan and lightly fry the Quorn pieces for ten minutes until golden brown. Take the corn wraps and lightly spread on humus and a sprinkling of grated sheese. When the chicken is done remove from frying pan and place in a bowl, using the same pan transfer the tortilla in to the pan and leave to warm for around 30 seconds slighting shaking the pan to avoid burning or sticking.
Remove from pan on to a plate and top with chicken, lettuce, and the sliced cucumber and tomato. Wrap and use a small tooth pick to hold in place is needed. Enjoy with a side salad for a light tasty lunch!