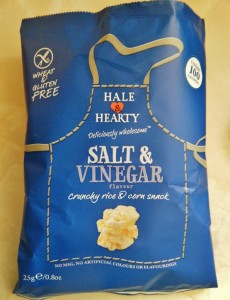 I stopped off at Tesco Express last night to get some petrol and before paying had a quick look round for a cheeky late night snack! I was pleasantly surprised to see that they had introduced a very small FreeFrom section which I've usually only found at large Tesco supermarkets, they had a good variety of items for breakfast right through to your evening meal, and even some sweet treats! I am not sure how wide spread this will go in the future but it's good to see more places are showing consideration towards the need for this type of food and that it's becoming easier to find.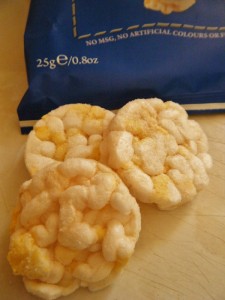 I spotted these Hale & Hearty rice snacks for 99p, I was pleased to see a wheat free snack and decided to give them a try. Has anyone else noticed any change in the choices of free from food available in your local stores?
Taste – These mini rice and corn snacks are so tasty and light I would personally choose them over crisps every time. They are bursting with flavour and texture without being overpowering like many salt and vinegar flavoured snacks. I prefer the texture of these over crisps as they are not at all oily and have a lovely crunchy bite.

Cost – I bought these for 99p. Good value for money, one bag with lunch is plenty without being too heavy. Many single packed crisps often cost more than this anyway. Taking in to consideration there health properties and good taste, I would consider these good value.

Use – Perfect for lunch with a sandwich or salad for something light on the side to finish of your lunch. They are also great for an on the go healthy snack mid-morning or afternoon. I think they are a good healthy alternative to give children in their lunch box instead of crisps and also get some variation to their normal lunch.

Nutrition – They contain simple and natural ingredients which I love to see in a food product. Rice and corn snacks like this are healthier than potato based crisp snacks and also naturally lower in fat. They are 92kcal per bag which I think is fantastic for how tasty they are and a perfect addition to a lunch without overloading on high calorie sides. With them being Hale and Hearty they are Wheat, Gluten and MSG free and suitable for vegans, this is perfect for people with intolerances and even those without can benefit from varying from their normal food choices.
10/10

On the go snack and perfect with lunch

Healthy alternative to crisps

Full of great flavour and also available in Sour Cream and Chive and Sweet and Spicy