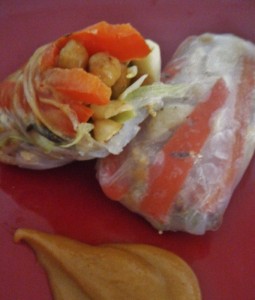 A Chinese has always been my favourite kind of takeaway and one of my overall favourite foods, I love all the different flavours such as plum, lemon and peanut in the dishes. Unfortunately since struggling with my stomach difficulties I, like many people, am left with awful side effects after a take-away or ready meal, including headaches and stomach pains. I have also found after I've changed my diet to more fresh and healthy ingredients I find the food tastes full of sugar and salt and very oily. That's what got me thinking I could make my own Chinese dishes at home and not only are they far healthier they also have a cleaner and fresher flavour, this dish is full of healthy ingredients meaning you can enjoy Chinese inspired cuisine all the time and feel great rather than it having to be a naughty Friday night take away treat!
The sauce is probably my favourite part of this dish, it's a perfect match with the spring rolls but I enjoy it so much that I often make some up just to use as a dipping sauce with some veg sticks as afternoon snack.
I used sesame oil in place of olive oil, there are so many different choices and alternatives to oils available and I take full advantage of the choices and enjoy trying them out. I recently bought this organic sesame oil at my local health food store for around £5 however I saw sesame oil in Tesco the other day down the Jamaican food aisle for less than £2. Sesame oil goes well with this dish in particular as it is often used as a flavour enhancer in Chinese cuisine and carries a lovely nutty flavour through the dish.
In moderation different oils carry many health benefits; sesame oil is a good source of vitamin E, which has anti-oxidant qualities. It has also been linked with lowering cholesterol and the high levels of polyunsaturated fatty acids helps to control blood pressure. It also contains high levels of magnesium and calcium along with other vitamins. I have personally found too much oil tends to have negative side effects on me such as headaches, which is why I have resorted to using low calorie sunflower spray when frying and baking as a way to cut back on too much oil all together. However small amounts of oil in your diet are healthy, just be more conscious when using oil and think about swapping to alternatives like sunflower sprays when preparing some foods.
I picked up the rice paper wraps at a Chinese food store near me, an important tip when wrapping these is to ensure you fill them enough so you don't end up with more wrap than you do filling and the wrap will then become quiet thick and glutinous so try to avoid piling the excess wrap all in one place as you will end up with on thin side to the roll and one thicker side.
I found this really short and helpful video on YouTube to show you how to wrap the rolls correctly to spread the paper evenly and avoid clumping, click here to watch now.
If you haven't used rice paper wrappers before you will find straight out the packet they are hard and very easy to break, here is a video from the same channel as above on how to soak them in water to prepare the wrap to be used. Click here to watch the video.
You can enjoy these raw however I did chose to cook mine as I find it dries the water from the wrap up making it slightly crispy and it takes away what can be a soggy rice texture if soaked in water for too long. These are perfect for entertaining as you can prepare them before guests arrive and then pop in the oven for 5 – 10 minutes just before serving!
Recipe:

Makes approximately four rolls, the measurements aren't so important in the spring rolls, just use as much as you think you'll eat!

Ingredients:

Peanut and Orange Sauce (Serves 2 – 3 people)

2½ Tbsp. peanut butter
1 Tbsp. honey
¼ Tbsp. sesame Oil
1 squeezed orange
½ Tsp. paprika
1 Tsp. ginger powder or raw root ginger to crush in

Chinese Chicken Spring Rolls

½ bag of Quorn chicken style pieces
½ a pepper
½ tin of chick peas
4 spring onions
½ tin water chestnuts
Large handful of shitake mushrooms
Spring roll, rice paper wrappers

Method:

Preheat oven to 180c and line a baking tray and lightly grease. First prepare the peanut sauce by combining all the ingredients and mixing well with a spoon until all ingredients are combined.  Leave aside.
Next prepare your veg filling for the rolls, begin by chopping the pepper into short straight sticks and thinly slice the water chestnuts and mushrooms. Take two of the spring onions and chop in to small circles, then take the other two and cut them to form longer strands as shown in the picture. Rinse and drain the chickpeas.
Lightly grease a frying pan and add the chicken style pieces, lightly fry for five minutes until turning golden brown and then add all the veg, leaving the longer strands of spring onion aside. Fry for a further five minutes until cooked through (make sure not to overcook, the rolls taste much nicer if the filling still has some crunch!)
Dip the rice paper under water for about ten seconds, shake and place on chopping board (be aware the wraps continue to soften once out the water so don't over soak). Fill with peanut sauce, veg and chicken mix out the pan and the spring onion strands you left aside earlier. Optionally, sprinkle on a little pepper, ginger powder or other seasoning to give them an extra kick. Wrap as shown in video above, avoiding an uneven pile up of the wrap on one side. Place on baking tray and repeat. If you experience any breakage, you can always wrap them again for a sturdier roll or restart all together. I had one with a tiny hole in and you'll find once you cook them the rips tend not to get any worse.
Place in oven for 5 – 10 minutes. Take out and allow to cool for a few minutes before serving.

7.  Serve with Peanut sauce on the side for dipping!