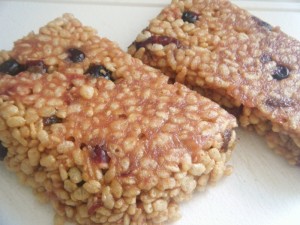 After I made my Fruit Crunch Breakfast this morning(http://www.memyhealthandi.co.uk/2011/08/fruit-crunch-breakfast-tower-with-homemade-vegan-alternative-to-yoghurt/) I decided to use up the rest of the cereal to make one of my all-time favourites, Rice Krispie bars. When I make the more conventional recipes I always think there is too many marshmallows and butter than needed and they can end up tasting overly sweet. With this recipe you use under half of the amount of marshmallows most recipes suggest and by converting to sunflower spread, instead of butter, you end up being able to enjoy a sweet treat and saving on lots of calories and fat. However by adding the dried and fresh fruit, you don't miss out on any sweet flavour and it gives the bars a lovely pink colour and a really fresh taste. They are perfect for parties and picnics to share around.
Recipe

Ingredients;

40grams of sunflower spread
200grams marshmallows
200grams of Rice Krispies
50grams of dried fruit (eg. Currents and cranberries)
80grams of fresh berries and raspberries

Method;

Line a 12inch baking tray and grease; I used a low calorie cooking spray.
On a medium heat melt the sunflower spread in a large pan (remembering you will be adding the Rice Krispies to the pan later, so make sure you have enough room for this), once melted add the marshmallows and stir consistently until both are melted in together. Next, add the fresh fruit and stir until the berries have melted through leaving a distinctive pink colour to the mix.
Slowly add in the Rice Krispies to the pan and stir in, ensuring they are all being evenly covered by the mix and the mix from the bottom is spread throughout.
Pour half the mixture in to the lined baking pan and pat down firmly, then add the rest of the mixture and do the same again to ensure its firmly pressed together so you cut in to bars later.
Put the baking pan in the freezer for half an hour. Take out and cut in to bar immediately while it's still a little harder and then they can be stored in the fridge.