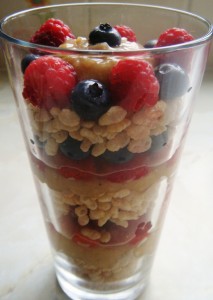 This morning I had a little more time to make myself some breakfast, I looked in the fridge and found lots of berries I bought a few days ago which needed eating up. The idea of this breakfast tower then came to mind and I thought it would be a great recipe to showcase my homemade alternative to yoghurt. I have tried soya yoghurts in the past and never been blown over by their taste, I also don't eat many dishes that would require the texture of a yoghurt so they have often gone off before I finish them. Ever since first making this alternative I have used it in many deserts and breakfasts, it's also far more nutritious and filled with more energy than you'd find in most yoghurts.
I used Rice Krispies with this tower as I find a lot of cereals very heavy however after finishing I could imagine a nice granola with it. I drizzled on the rice milk afterwards and it slowly drizzle through the tower making it very moist, this delicious tower made a great change to a bowl of cereal. If you don't have a much time to make a perfect tower you could try just mixing it in a bowl to make a nice scramble of flavours.
Recipe

I didn't use many exact measurements throughout so just be creative based on how much cereal or berries you want. Also like I always say make the most of what you have in the kitchen and use up any fruit you have, just dice it up and stack like I did the berries.

Ingredients:

Rice krispies
Rice milk to drizzle on top (or any milk of your choice)
A small bowl of berries

And for the banana nut yoghurt

One banana
Half a teaspoon on peanut butter
A dash of cinnamon
A teaspoon of rice milk

Method:

Firstly make the yoghurt ready to layer in the tower. Take the banana, mash and stir with a fork until creamy and there is minimal lumps. Take the peanut butter and smooth in to the mixture ensuring the lump has been mixed in throughout, finally add the cinnamon and rice milk and stir.
Take a tall glass and begin to layer with rice krispies, smooth the yoghurt mix on and top with berries. Continue this process until cup is full. Drizzle over with milk and enjoy.