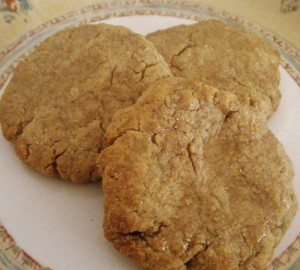 I was given this book by a friend last Christmas. On my first flick through, all the pictures look delicious and I was torn over what to make first. This book is full of completely vegan recipes, along with most of them also being gluten and sugar free. BabyCakes NYC opened for business in August 2005 and is one of New Yorks most talked about bakeries with a large celebrity following including Mary Louise Parker and Jason Schwartzman. In this book you will find both sweet and savoury baking treats including cupcakes, teacakes, cookies and pies, there is also a chapter with drinks with a tasty recipe for agave lemonade. The book is easy to read and has a personal touch of telling the story this bakery has taken to success throughout the book.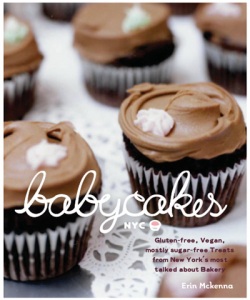 Unfortunately after getting hyped up to start baking I began to look at the ingredients and was disappointed to find I was missing half of what some recipes needed. Most recipes called for ingredients such as cane juice, flax meal, xanthan gum and coconut oil, to name a few more mainstream of the long ingredients list. I feel many normal households wouldn't always have these ingredients stocked and some of them can be hard to find and sometimes more pricey than normal baking ingredients. I'm a big supporter in changing your lifestyle to fit around healthier eating but I don't think recipes like this are always convenient and easy to follow, meaning many of us won't bother.
With this is mind I still wanted to try out some of the recipes as they did look delicious, I happened to have all the ingredients to make Johnny Cakes which were in the biscuits and scones section. I had never heard of them before but they are described as a 'part cornbread pancake and part American biscuit'. I worked at a child's summer camp last year in California and was there for 4 months giving me plenty of time to try out some authentic American favourites for myself! I become particularly fond of both cornbread and American biscuit so the combination of the two was definitely something I wanted to try.
The recipe was easy to follow and best of all I loved the result of the Johnny Cakes. I made some alterations to the recipe based on what I had in the kitchen and my own taste, I swapped the agave for honey and sprinkled with sugar and cinnamon as opposed to salt. This made them a much sweeter tasting treat perfect for tea time but you could try them with agave and salt for a more savory taste.
After the success of these I will definitely be trying more recipes from the book, I've seen some raspberry scones I'm tempted to try so keep an eye out for the results of how they come out!
In conclusion I would say that if you aren't use to vegan and free from cooking this probably isn't the first place I would suggest you try for recipes, as you will need to stock up on a lot of ingredients you most likely may not have in the cupboards. However I can imagine after great results of just one recipe from this book that it would be worth investing in the ingredients if you intended to bake several recipes from it.
Recipe:

Adapted from the BabyCakes recipe for Johnny Cakes

Ingredients:

180grams of Doves Farm whole spelt flour
100grams of cornmeal
1 Tbsp. of baking powder
75ml of coconut oil
2 Tbsp. of agave nectar
½ Tsp. of vanilla extract
50ml of warm water
Sugar and cinnamon for sprinkling (optional)

Method

Preheat the oven to 180c. Line a baking tray, ideally with greaseproof paper but if like me you don't have any at home use tinfoil and lightly grease.
In a bowl mix the flour, cornmeal and baking powder until well combined.
Stir in the coconut oil, agave nectar, vanilla extract and warm water. Whisk until a lumpy and grainy like mixture is formed (as shown in the picture).
Scoop around two heaped tablespoons of the mixture in to your hands and create a ball then press down firm to form a round biscuit shape.
Sprinkle a little sugar and cinnamon on top of each cake and place on the over for ten minutes.
Removed from oven and while still on tray immediately drizzle honey over each one and then allow the honey to soak in and cool for ten minutes.
Move on to plate and enjoy while warm! To start place in an airtight container and they should keep for two days.