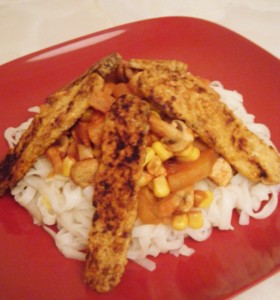 I'm not a vegetarian but with such a sensitive stomach, much of my diet has become vege as I find it a lot easier to digest plus it's so healthy. I'm not a big fan of Quorn and supermarket bought vegetarian meat alternatives, like most ready meals they are full of salt, very dry and lack flavour. I first heard of tempeh a few months ago when browsing through vegan recipes online and ever since then it seems to have popped up many places I have looked (mostly on American websites). I was very intrigued to try some for myself so I began to try and hunt some down in the UK. I found it on many health food and vegetarian websites to order but I tried my local health food shop first where they had some in their frozen section.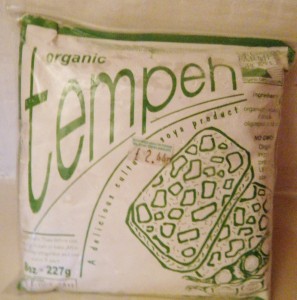 With my wheat and dairy intolerances, I stay away from any noodles except for rice noodles. If you haven't tried them before they are a much lighter taste and very thin compared to thick egg noodles. The sauce I made to top the dish uses a simple base of tomato pasata, making it very easy to prepare fresh. By mixing the pineapple with the tomato base it resembled a sweet and sour type sauce and also has a strong kick from the ginger. Using the fresh root ginger in the sauce also has many health benefits,  ginger has been proven to have anti-inflammatory effects and is good for those suffering with gas, bloating and stomach cramps.
After trying the dish I will definitely by having Tempeh again, not only was it full of flavour it's also very nutritious including being a great source of protein (100 grams contains around 200kcal and 18grams of protein, which is more then found in tofu!). I personally found it had more of a nutty, than chicken like taste which I had read many places but either way it was delicious and I'm very pleased to have found something new to add to a meal!  Try some for yourself and let me know what you think of it, try your local health food store or failing that have a browse online to order.
Recipe:
Serves Two
Ingredients:
125grams of Tempeh
Half a lemon
Paprika
Rice Noodles (I used a handful per person, like serving spaghetti)
For the sauce:
250grams of tomato passata (half the carton)
125 grams of chopped mushrooms
A quarter of an onion
250grams of sweetcorn (a large tin)
4 slices of tinned pineapple
1 large finely chopped root ginger
Method:
Finely chop the onion, grease pan with low calorie spray and fry onion alone first until burnt. Add the mushrooms, pineapple, ginger and sweetcorn and leave to fry on a medium heat.
Put a pan of water on the boil for the noodles. Chop the tempeh in to thick slices like shown in the picture above, cover in lemon juice and sprinkle on paprika.
Put the rice noodles in the pan and leave to boil for 10 – 15 minutes. While they are boiling, pour the tomato passata, chilli flakes and lea and perrins over the veg and leave to simmer on a low heat to keep hot until ready to serve.
Grease a frying pan and fry the tempeh for a few minutes either side until golden brown and crispy then take off heat and put aside to avoid burning. Once noodles are cooked drain them and then rinse under cold water, this will stop them becoming sticky, I also then fry them in a pan for a few minutes to crisp them up. Once noodles are drained and fried, plate up the noodles and top with the vege sauce. Fry the tempeh for 30 seconds each side before placing on top to ensure it's hot. Enjoy!