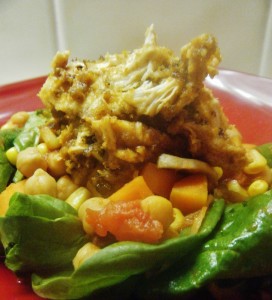 So many of my recipes I post are vegan and use a lot of meat alternatives but I'm not actually a vegetarian and do occasionally enjoy meat dishes. I never eat any red meat, my stomach doesn't digest it well and it's always left me feeling very sluggish. Chicken has not only always been one of my favourite meats but also one of my favourite foods, however since experimenting with so many meat free alternatives I seemed to have been enjoying them so much that I haven't even thought to eat any meat in about 3 months!
With this in mind I decided to make one of my all-time favourite dishes, peanut chicken. It's so simple to make and gives the chicken such a moist yet crispy taste, best of all it's a healthy way to give a dish flavour without using a packet sauce full of sugar and salt.
I've made this chicken to top salads and stir frys but tonight I was just making a quick dinner for myself and topped it on a bed of warm spinach and veg. If you do try it, post picture of what you chose to serve it with and let me know what you thought!
Recipe:

I had to make the sauce tonight with Worchester sauce as you'll see from the pictures but I usually make it with a light soy sauce. To be honest I hardly noticed the difference but if you are making the chicken as a Chinese inspired dish I would recommend a soy sauce in place! I was using cooked chicken as there was half a roast chicken left over from the night before so I decided to use that. If you're making with an uncooked chicken breast, I'd recommend slicing the breast and filling with the peanut sauce and coating all over breast then place on a tray, cover completely with tin foil to avoid burning the coating and cook in the oven at 220c for 20 minutes. I then take it out the oven and lightly fry for a few minutes to make crispy. Either way is delicious!

Ingredients:

Serves 1

 For the Chicken

1 chicken breast cooked and shredded
2 tbsp. of peanut butter
2 tbsp. of Worchester sauce
A pinch of chilli flakes
5 tbsp. of tomato passata

For the veg and spinach

A handful of spinach
½ tin of sweetcorn
¼ tin of chickpeas
½ a carrot chopped
2 chopped mushrooms
3 tbsp. of chopped tomatoes

Method:

In a bowl mix the peanut butter, Worchester sauce, chilli flakes and tomato passata until combined, leave aside.
Grease a pan with low cal spray and lightly fry the mushrooms, sweetcorn, chickpeas, carrot and chopped tomato. Leaving on a low heat.
 Place the peanut butter mix in the microwave for 30 seconds until warm. In a separate pan, grease with low cal spray and begin to light fry to chicken, add the bowl of sauce to the pan ensuring all the chicken in being coated in the mix. Keep the chicken moving for about five minutes until hot and slightly crispy. Add more tomato passata if the pan needs more moisture to stop the chicken from burning rather than adding more oil.
Take the spinach and add it to the veg pan to wilt. Mix in with the veg and heat for about 1 minute, keeping the spinach moving so it doesn't shrivel up.
Place the veg and spinach on plate and top with chicken. Enjoy!