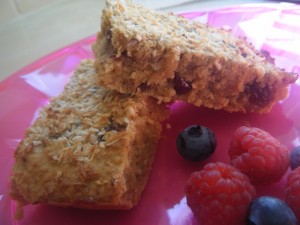 Routine is important in any diet but I know how hard it can be to follow a healthy eating pattern when you have a busy  schedule. Rushing around in the morning, trying to get out the door on time, means that I often don't have time to make a perfectly balanced breakfast. It's easy to end up grabbing something that isn't a great start to the day or skipping breakfast all together.
For me, the biggest problem is that I rarely have any appetite in the morning. It is at least a couple hours after I wake up before I start to feel hungry and the thought of having to prepare anything makes me feel even less like eating!   In the past this has often meant I don't eat until lunch time – sometimes six hours after I wake up. This is no good if you already suffer from stomach problems and in the long run, it just means your metabolism gets sluggish and this is the start of health problems.  To stop this happening, I've got into the habit of taking a snack with me I leave the house.  Then I've got something ready to eat, when I do start to feel hungry.
There are lots of breakfast bars in all the Supermarkets now and I used to pick these up, until I started to read the labels.  With some of them, you may as well buy a bar of chocolate.  They are full of sugar, bad fats and preservatives. So I have made my alternative. This is one of my favourite as the oats are perfect for slowly releasing energy and the bananas sweeten the bar without the need sugar. I have used agave nectar, a healthier substitute to sugar that I use alot for cooking with. If you haven't tried agave nectar, you'll find it in most big supermarket and you can read about it here: http://www.allaboutagave.com/index.php).
I usually make  these on a Sunday, make sure they've cooled down and  wrap them individually in tin foil. They're ready for me to grab one in the morning. They also make a great snack mid afternoon, they give you plenty of energy to keep you going until dinner or if you need an energy boost after a workout.  Hope you enjoy them.  Let me know what you think.
Recipe:

Preparation Time: 10 minutes

Baking Time: 20 minutes

Makes: 12 bars

Ingredients:

170grams of wheat free flour
1/2 teaspoon baking soda
1/2 teaspoon nutmeg
1 teaspoon cinnamon
115grams sunflower spread
1 egg
3 medium mashed bananas
1 teaspoon vanilla extract
135grams rolled oats

85 grams raisins and cranberries

135grams agave nectar

Method:

1.Preheat the oven to 200C. I used a 12 inch baking pan which I covered with tin foil and used a low calorie fry spray to grease the pan. In a bowl add the flour and baking soda and place aside. In a large bowl, add the sunflower spread, agave nectar, egg and mashed bananas, beat until smooth.

2.Sift in flour mixture and fold in along with the oats. Finally add the spices and fruit and thoroughly stir in ensuring they are well mixed in.

3.Pour mixture in to the prepared baking tin and smooth mixture over evenly.

4.Bake for ten minutes then take out and sprinkle the coconut over the top, bake for a further ten minutes until golden brown. Take out and leave to cool for ten minutes before trying to remove from the baking tin or cut, as it can be crumbly when too hot.