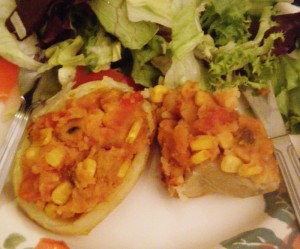 Tonight I am making potato skins on a bed of salad. I love jacket potatoes but often find eating a whole potato, very stodgy and filling and it can leave my stomach feeling very bloated. This recipe is a simple way to cut out bloating and extra carbs and introduce more vegetables in to your diet.
When people think of potato skins, they often think of the greasy ones sold in the supermarkets with an overload of melted cheese topping and a very greasy potato skin; however with these you will find them crispy on the outside with a soft and tasty filling inside and not a drop of grease in sight!
By adding the chickpeas they give the veg mix some substance to fill the potato and also give the mix a creamier taste which means you don't need to smother them in cheese. I use chickpeas in a lot of my recipes and feel they give a soft and creamy texture that you can otherwise lack in a lot of vegetable dishes. Plus they are a great source of protein that can sometimes be lacking when you are on a restricted diet due to stomach problems.
You can try all different combinations of spices and flavours with this recipe, so have a look what you have in the cupboard.  I chose the paprika and pickle to give them a warm punchy taste without it being overly spicy. I enjoy them as a meal on their own, with a side salad but they also make a great starter for a dinner party or as part of a buffet or as an accompaniment to a main meal for anyone else in your family.
Recipe:

Ingredients:

4 potatoes
Handful (10) medium sized mushrooms
Half tin of sweetcorn
Half tin chickpeas
Tin chopped tomatoes
2 Tbsp of Lea and Perrins Worcestershire Sauce
1 Tbsp paprika
1 Tbsp Pickle
2 crushed ginger cloves OR 1 Tbsp of ginger powder
Sprinkle of salt and pepper

Method:

Wash the potatoes, stab all over with a fork and place in microwave for 15 minutes. While the potatoes are cooking, begin to dice the mushrooms in to small chunks. Heat up a frying pan and grease with cooking spray to prevent the vegetables becoming too oily, then add the mushroom, chickpeas and sweetcorn in to the pan.  Next, add the Lea and perrins, Paprika, Pickle and crush in the garlic. Leave to simmer on a medium heat.
Check on the potatoes, flip them over and continue to cook in microwave for a further ten minutes.  Add the tin of chopped tomatoes to the frying pan and leave to cook on a low heat for a further ten minutes.  While everything is cooking, prepare a lined tray ready to grill the potato skins in under once filled. You will also need two bowls ready to scoop the potato out when cooked.
Leave veg mix to one side and remove potatoes from microwave. Firstly chop each potato in half, so they can begin to cool inside. With a knife go round and carve out a circle slightly in from the edge where you will then scoop the filling out with a spoon, this makes it easier to get the potato out of the skin, whilst still keeping a sturdy skin that won't break when filled with the mix. Scoop out each potato half in to a bowl and place the skin on the prepared tray, then place under the grill for 5 minutes to make the shell crispy.
While the Skins grill, separate half the potato mix in to a separate bowl then pour the veg mix in and mix together with half the potato to form the filling, mix in a sprinkle of pepper and a Tbsp of soya spread. Take the empty skins out from under the grill and fill each one with the mix giving a slightly heaped effect. Grill for a further five minutes until the tops are a nice golden brown and crispy.
Serve on top of bed of your favorite salad and add a drizzle of some balsamic vinegar on top. Enjoy!