Yesterday I went for a day out to London with my Sister and Boyfriend. The weather was lovely and sunny and made for perfect sightseeing, I've been to Buckingham Palace before but it was great to visit again after the Royal Wedding this year!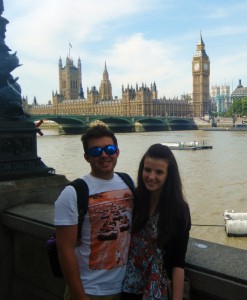 For many of us on day trips, it's so easy to slip out of a healthy routine or even see it as a 'day off' but my outlook is you should see your diet as a way of life and shouldn't even consider a 'day off'. Many diet plans and blogs I've read suggest taking along some nuts, dried fruit to snack on and staying completely on plan at all time, not taking different scenarios in to consideration. I feel this is unrealistic and people should be able to go out with family and friends and enjoy all aspects of the day, including good tasty food.  With IBS I feel it's all about planning ahead, I don't suggest throwing aside all my known intolerances and snacking on a burger and ice cream to enjoy the day (if anything this would spoil my day and I'd end up struggling round with stomach cramps looking for the nearest toilet). Living with IBS I think nothing of planning now and by changing my lifestyle it minimises any risk of having a flare up by making wrong choices. I spent 15 minutes the night before packing a lunch and a few snacks. By doing this we all enjoyed a lunchtime picnic in St James Park together and didn't have to struggle round hungry looking for somewhere or something I 'could' eat when lunchtime came around.
This takes me on to my review of vegetarian café Beatroot in Soho, London. On Sunday I did a quick search online for vegan food in London, this place looked laidback, full of selection and not only was most of the food vegan it also had many wheat free options.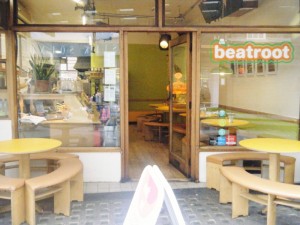 Located on Berwick street, only a five minute walk from the Piccadilly Circus tube station or Tottenham Court Road, it was very easy to find. They have a selection of ten hot dishes and eight salads, you choose the size of box you want and then mix any combination of the hot and cold dished. I got the large box to sample more and was pleasantly surprised in the generous portion sizes, you'll see from my pictures I had no chance of shutting the box! So with this in mind you could easily fill up off the medium box for a main meal.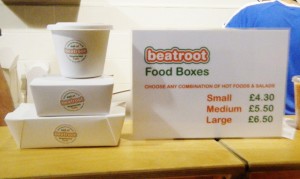 Hot Dishes:  The shepherd's pie, roasted vegetables and stir fry were my favourites. You could tell everything had been made from scratch and the different tastes were delicious and full of flavour.  They also had these sausage rolls which from asking in store and reading on other blogs are a firm favourite with customers.  The pastry wasn't wheat free but I tried one anyway and enjoyed it so much it has inspired me to make my own with a wheat free pastry.
Obviously I choose all vegan choices but my sister, a strict vegetarian, had the lasagne (the pasta bake that day) and said it was one the nicest meals out she has had in a while.
Cold Dishes:  The salad selection was varied and bursting with different colours. I tried the dilled coleslaw, sesame beetroot and quinoa taboullah. I really enjoyed the coleslaw, it was very rustic with thickly chopped cabbage and carrots and unlike many types of coleslaw it wasn't drenched in mayonnaise or dressing, it was the perfect amount. I enjoyed the beetroot salad but I enjoy my own homemade recipe much more and found the quinoa salad a little dull and tasteless.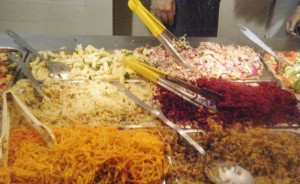 Cakes and Sweet Treats: All cakes are vegan but I choose the two which are also wheat free to try, the flapjack and chocolate cluster.  Ever since I've made my own flapjacks I often find bought ones very dry and crumbly however this one was very moist and not overly heavy, the raspberry and coconut gave it a nice twist to just plain oat. It was also very large so great value for just £1.50. The cluster was very cholately and the different kinds of cereal and fruit in it gave it varied textures throughout.
Drinks:  They also offer fresh juices and smoothies made to order, all at very reasonable prices and a variety of flavors including using coconut, acai berries, dates and pear. You can also sit back and warm up with one the many hot drinks on offer including a variety of healthy and refreshing Teapigs  (fine, whole leaf, organic teas. Find out more…. http://www.teapigs.co.uk/about_tea/) flavours which I often enjoy at home.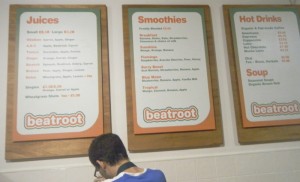 Whether it's to grab a laidback bite for lunch, some dinner on your way home or to take a small rest with a fresh vegan cake and drink, I would definitely recommend coming to Beatroot. The staffs are low-key and friendly, which gives the place a relaxed feel and they're very helpful in picking your food around any allergies or dislikes.
To find out more about Beatroot Cafe and to see their full menu of food and drink, visit their website: http://beatroot.org.uk/home.html